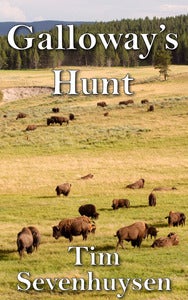 $

0.99
Galloway's Hunt is a novelette set in the world of Galloway's Voyage, a work-in-progress novel based on the same title character.
Length: 9,100 words
Synopsis
The Yuskian spring bison hunt is a generations-old rite of passage for the people of that country, and big game has always held a certain allure for Lucas Galloway. In the spring of 9970 he sets out to take part in the bison hunt with his good friend Jeremy Prinks, but he soon finds himself swept away on an adventure of literally gigantic proportions.
BUY ON KINDLE THROUGH AMAZON
BUY IN PRINT THROUGH CREATESPACE, $5.99
The print version of Galloway's Hunt includes a preview of my upcoming novel, Galloway's Voyage.