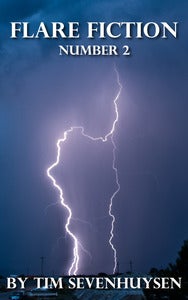 $

0.01
Flare Fiction is a series of flash fiction chapbooks.
The second volume of Flare Fiction includes 8 stories, totalling approximately 3,000 words.
Synopsis
These stories are experiments, in a lot of ways. Can Imaginary Enemy get you to care about the plight of an imaginative young boy in less than a page and a half? Can A Brain Well-Watered encapsulate the creative process in only 315 words, and inspire you to go searching after your own fresh inspiration? Can A Long Story make you laugh the first time you read it, and sigh with pity the second? These are the kinds of challenges I set for myself as an author. You, as readers, are my audience, my targets, my judges, and often my inspirations.
---
Set your own price by changing the "quantities" to however much you'd like to pay!